Striving for Perfection and Sparing No Efforts to Build a Model Project
Release Time:2017-03-29 13:57:16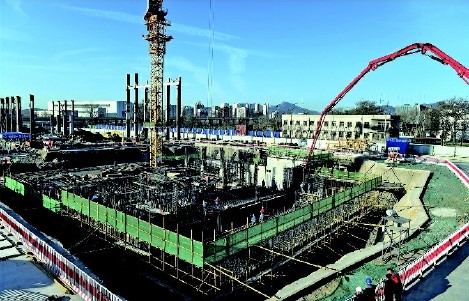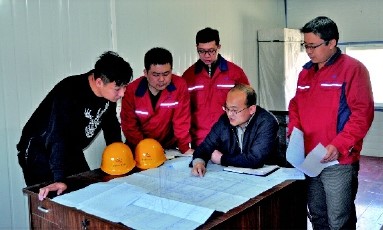 Entering the site of the Desulphurization Workshop Transformation Project in the north area of the Shougang Group's Beijing Park, we see cranes towering and hear machines roaring. The builders are stepping up construction day and night. It is an incredibly busy scene. This is another key development and construction project of the Shougang Group Park. The progress of foundation construction is currently intensifying, and the major structure construction of the underground garage will be completed by the end of March.
According to the field staff, the Desulphurization Workshop Transformation Project plan is under formulation. After repeated discussions, the building shape and energy-saving and intelligent technology applied in its construction has been so carefully designed that it can be called a work of art. In the shape of the building, the transformation project will use the original plant structure to create a new space to serve the public. The overground part is divided into the east building and west building by the atrium. The east building adopts a steelwork suspension structure with the north and south sides overhanging by 24m. The facade combines perforated weathering steel plate curtain walls and glass curtain walls which embody a rough style and highlight steel culture. The basement is equipped with an equipment room and three-dimensional mechanical vehicle garage. The architectural renderings designed by the architectural scheme are very aesthetically pleasing. Meanwhile, a large amount of intelligent equipment is applied in the building.
At the site, Deputy Project Manager Yao Zongyuan of Beijing Shougang International Engineering Technology Co., Ltd.'s Park Project Management Department says that the general contractor Beijing Shougang International Engineering Technology attaches great importance to this project, and specially deployed elites to set up the Park Project Management Department to solidly promote all aspects of the work. In the selection of hot and cold sources for the project, comparative discussions on different schemes were carried out, and a number of well-known manufacturers in the industry were invited to provide technical advice. Repeated comparative discussions were then carried out to determine the best solution. After the drawings were issued, the professional engineers devoted themselves to digesting the drawings, carefully studied and analyzed the system chart and each word of the design specification, and communicated and confirmed with the designers in good time. The construction has daily plans, eradicating obstacles in its future construction. At the same time, the Project Department developed a series of work processes including contract signing, quantity reports, purchase descriptions, etc., and simplified certain approval processes of conventional projects, thereby improving efficiency.
Yao Zongyuan said, "As the EPC general contractor of the Desulphurization Workshop Transformation Project, we are responsible for the project design, construction, materials and equipment procurement and other work. At present, more than 10 technicians are stationed at the construction site. Everyone gets up early and leaves late. We shuttle at the construction site, carefully organize the construction, solve problems encountered during the construction process and strictly ensure engineering quality. We're determined to build a model project and quality project with higher standards, faster actions and better quality."